News /
Water news /
Fusion Malaysia conduct product and training event for Ranhill Saj
From the 5th – 7th August 2020, Fusion Malaysia were invited to conduct a product and training event for contractors, plumbers and employees of Ranhill SAJ Sdn Bhd. 02-09-2020
Ranhill SAJ, located in Johor (a state of Malaysia in the south of the Malay Peninsula), are an integrated water supply company involved in the process of water treatment and distribution of treated water to consumers, right up to billing and collection.
The event, which took place over 3 consecutive days, was held at the Southern Region Water Authority Training Centre at Johor Bahru, Malaysia.
Darien Chew, Sales and Marketing Manager for Fusion Malaysia, conducted the event which followed the format of presentations on Fusion's market-leading Global PE Product Offer, electrofusion and butt fusion process and principles, then a series of interactive training sessions focusing on products and best practice installation techniques.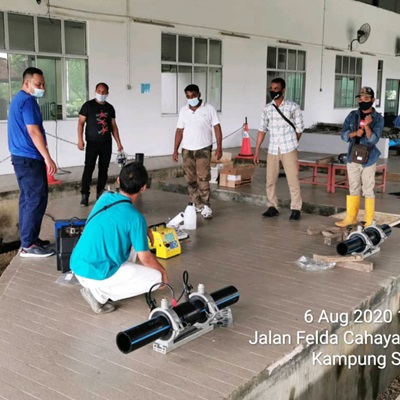 This latest event is one of a series which Fusion Malaysia have been conducting whilst adapting to the 'new normal' during the Covid-19 Pandemic.
All events are in line with strict safety guidelines around infection control, including social distancing measures and the use of face masks and hand sanitiser.
Darien Chew, Sales and Marketing Manager said;
'It is important that, as a company, we adapt to the 'new normal' whilst still providing an essential service to our customers. This event is one of a series we have been conducting recently which give our customers an opportunity to find out more about our market-leading Global PE Product Offer in addition to practical training sessions on our products, solutions and best practice techniques. It was well received by the delegates of Ranhill SAJ who enjoyed the 3 day event and we are looking forward to conducting more of these events in the future'